About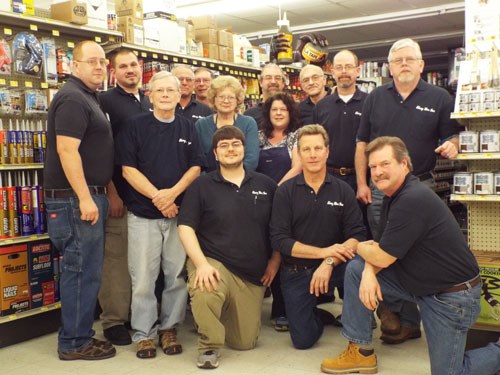 Elery W. Nau is a one stop shop hardware store in Montoursville, PA, offering a complete line of hardware, electrical, plumbing, and lawn and garden products. We love helping the "do-it-yourselfers" just as much as we enjoy working with contractors, painters, electricians and plumbers.
All of our management team call the Montoursville, PA, community home.
Elery W. Nau and his wife, Betty, started their business in 1946. When it first started, it was located in the hatchery building of the late Elmer and Mary Kime (the present location of Blaise Alexander Chevrolet, Inc.). Originally, the business offered electrical installation, supplies and appliances. He also serviced the appliances the business sold. Betty ran the business.
Elery was an electrical supervisor, having previously worked at Avco and Darling Valve in Williamsport, PA.
In 1948, they built a new store – the current location at 917 Broad Street in Montoursville, PA. The business continued to sell major and small appliances and in 1958, they added a small line of hardware products to their inventory.
Product lines continue to evolve and change as the years went on, accommodating the demands of customers. Three additions were put on the building to house increasing inventory – the last of which was added in 1988. In 1992 the building underwent a major renovation and in 2011, it got another facelift. In addition to making room for expanding inventory, it also provided additional space for offices.
The business became incorporated after the death of Elery's wife, but it remains a family business. Elery's children, Tom and Patricia, grew up working in the store. Today, Tom is the manager of the electrical work and Patricia's husband, Gary, is the manager of the store.